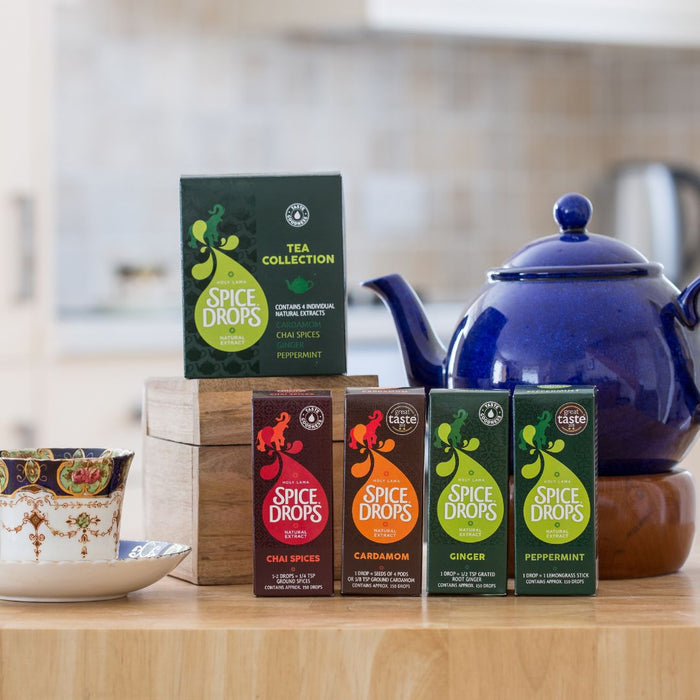 Tea Spices Collection
Original price
$26.00
-
Original price
$26.00
Our Tea Collection is a lovely gift collection for the lover of tea and other beverages. Mint or peppermint tea or a chai latte can be made in a matter of seconds with Spice Drops®. You can spice up tea, coffee, hot chocolate, or even add a few drops to hot water to enjoy a bag-less, caffeine-free tea.
DESCRIPTION

It contains the following extracts:

Cardamom – Great Taste Award-winner (2 gold stars)
Chai Spices

 – Great Taste Award-winner (2 gold stars)

Ginger
Peppermint - 1 star Great Taste awards 2016

DIRECTIONS FOR USE
For best results, use in the final stages of preparation or just before serving. For drinks, add the drop(s) first in the container and pour the drink on top. Shake well before use. If stored correctly, stays fresh for up to 3 years shelf from manufacturing date.

Spice Drops® mix easily with your chosen food and drink. We match the proportion of emulsifier to each high strength spice extract. Water-soluble. Fat-soluble. Emulsifier is derived from plants.

NO ARTIFICIAL COLOURINGS. NO ARTIFICIAL PRESERVATIVES. NO ARTIFICIAL FLAVOURINGS.

Our sustainable business model is founded on long term relationships with local farmers in the land of coconuts, spices & herbs – Kerala, India. Over 80% of our workforce is women, many of whom are from disadvantaged backgrounds. We recycle and use by-products, resulting in an impressively low level of waste.
INGREDIENTS

• Cardamom – Great Taste Award-winner (2 gold stars) [Emulsifier – polysorbate 80 and cardamom extract (30%).]
• Chai Spices [Emulsifier – polysorbate 80, pepper extract, ginger extract, cardamom extract, cinnamon extract, nutmeg extract and clove bud extract.]
• Ginger [Emulsifier – polysorbate 80 and ginger extract (45%).]
• Peppermint – Great Taste Award-winner (1 gold star) Emulsifier – polysorbate 80 and peppermint oil (35%).

Delivery time
Orders ship within 1 to 2 business days
Delivery Charge
UK postage from £3.45, free over £30. Customers from outside UK may be liable for import duties and taxes. Currently there are severe delays for EU orders due to border checks. If you are to refuse a delivery due to delays or because of duty/ taxes, you will still be liable for postage costs to and from your delivery address.